farmstreams
Regular price
Sale price
$320.00
Unit price
per
Savings
Sold out
What connection type do I need?

WiFi/Hardwired: You either have good WiFi where you want to place the camera or can run an ethernet cable

4G: You don't have good WiFi and it would not be possible to run an ethernet cable to the camera, but you do have good 4G coverage

POE: Planning to hardwire? Run both the internet and power off one cable
Our 360 Degree Camera gives you the peace of mind you deserve as a farmer or rural business owner. With its state-of-the-art features, you'll have a complete view of your property and everything that matters to you from the comfort of your phone. Keep a watchful eye on your livestock or assets day and night with crystal clear 80m night vision and 30X optical zoom, eliminating stress or uncertainty about what's happening on your property. With 4G or WiFi connectivity and multiple power options, our 360 Degree Camera is designed to work in any setting and is ready to withstand even the harshest environments.

Share
View full details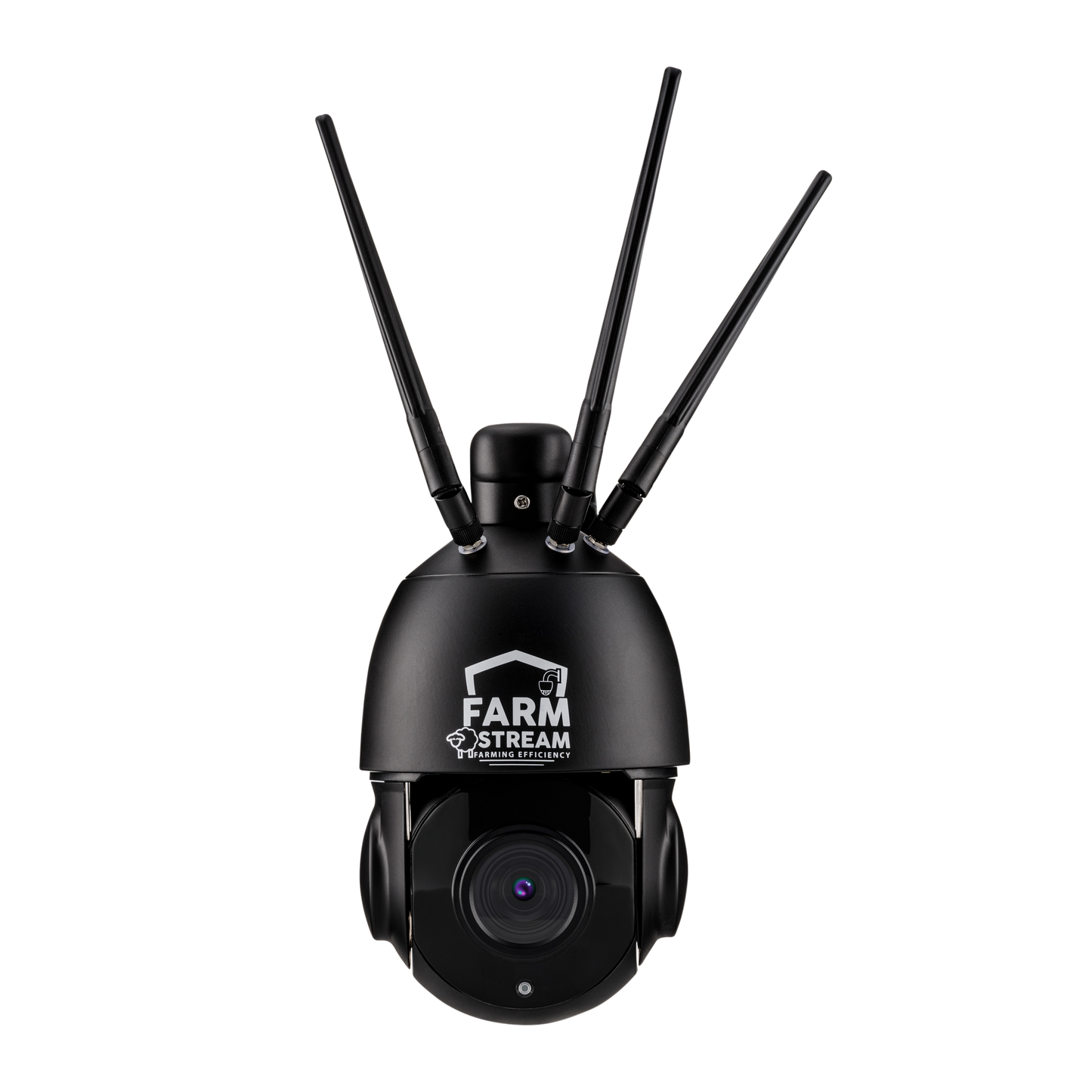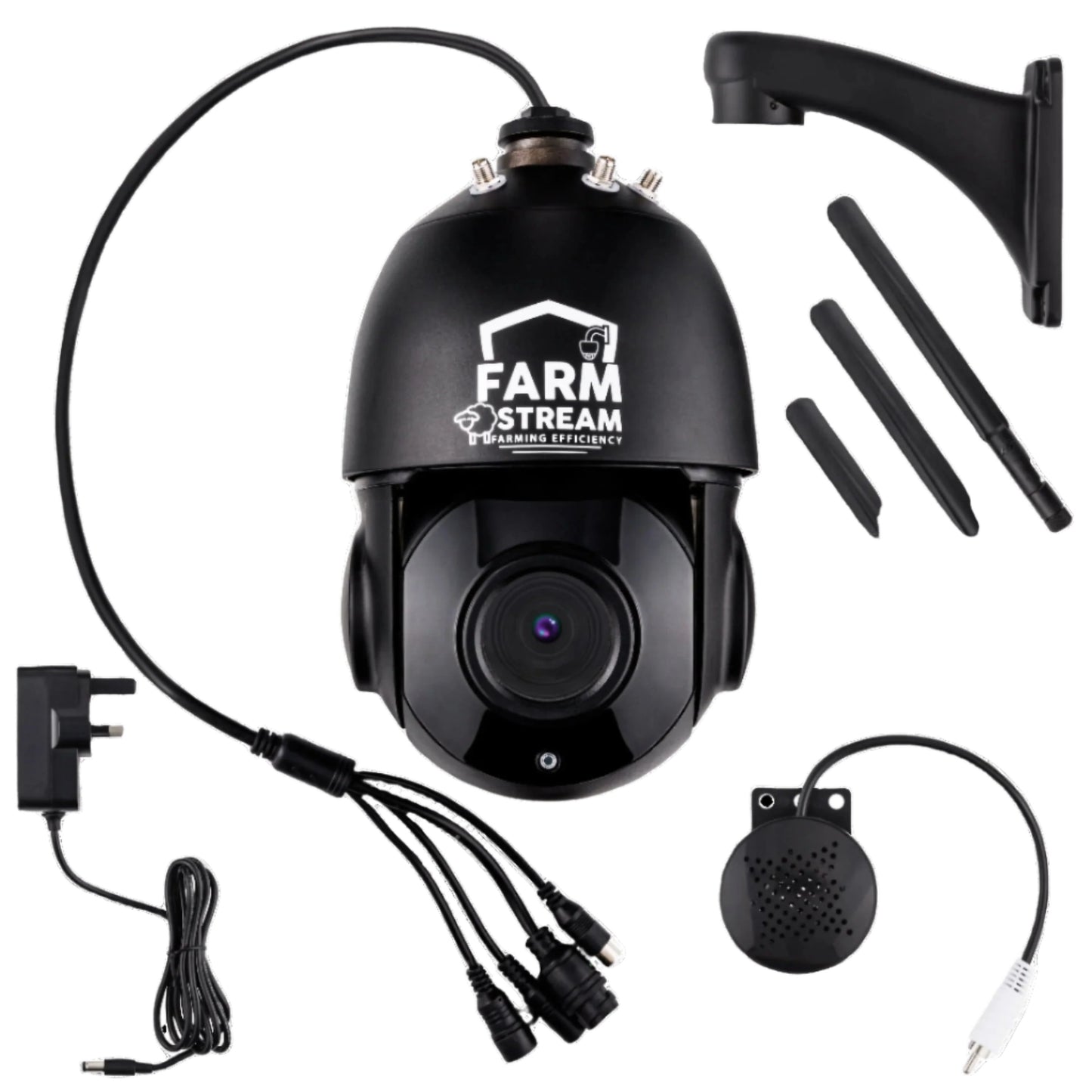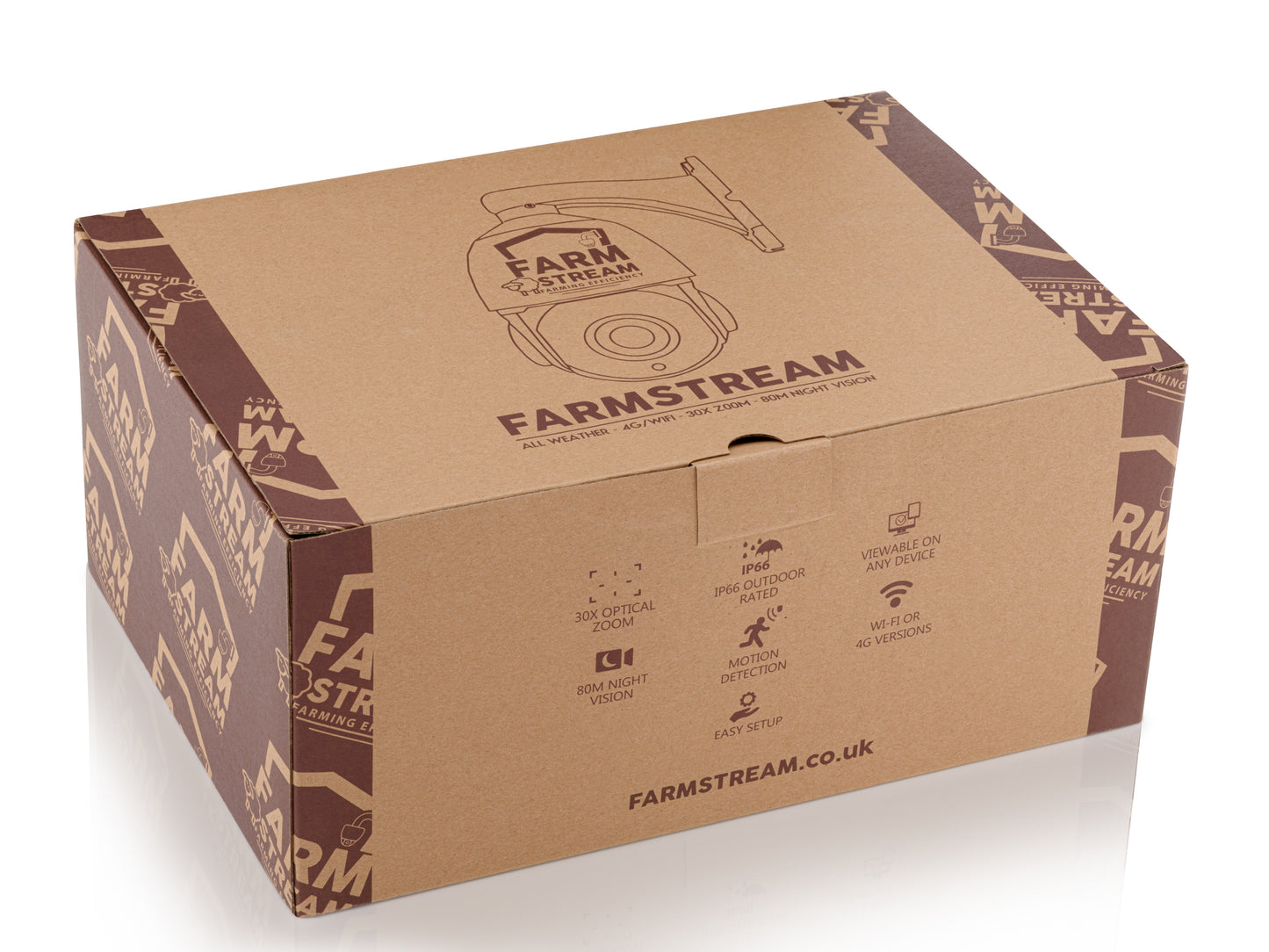 Farmstream 360 Camera
Key details

• 5MP HD Camera

• Outdoor IP66 Rated

• 80m Infared night vision range

• 30X optical zoom

• Durable lightweight metal shell

• 1-year warranty
What's in the box?

• Farmstream 360 camera

• UK mains power supply (cable length 0.5m)

• Mounting bracket

• Antennas 

• Speaker 

• Screws & fittings

• Farmstream Streaming SIM (4G models only)
Dimensions

• Dimensions: 300mm x 200mm x 150mm

• Camera Weight: 2.5kg

• Material: Durable lightweight metal shell
I'm not sure what I need?
Step 1: Plug your camera in

Step 2: Download CamHipro app

Step 3: Scan QR code on the camera

Step 4: Fix camera in place

Step 5: View footage on your phone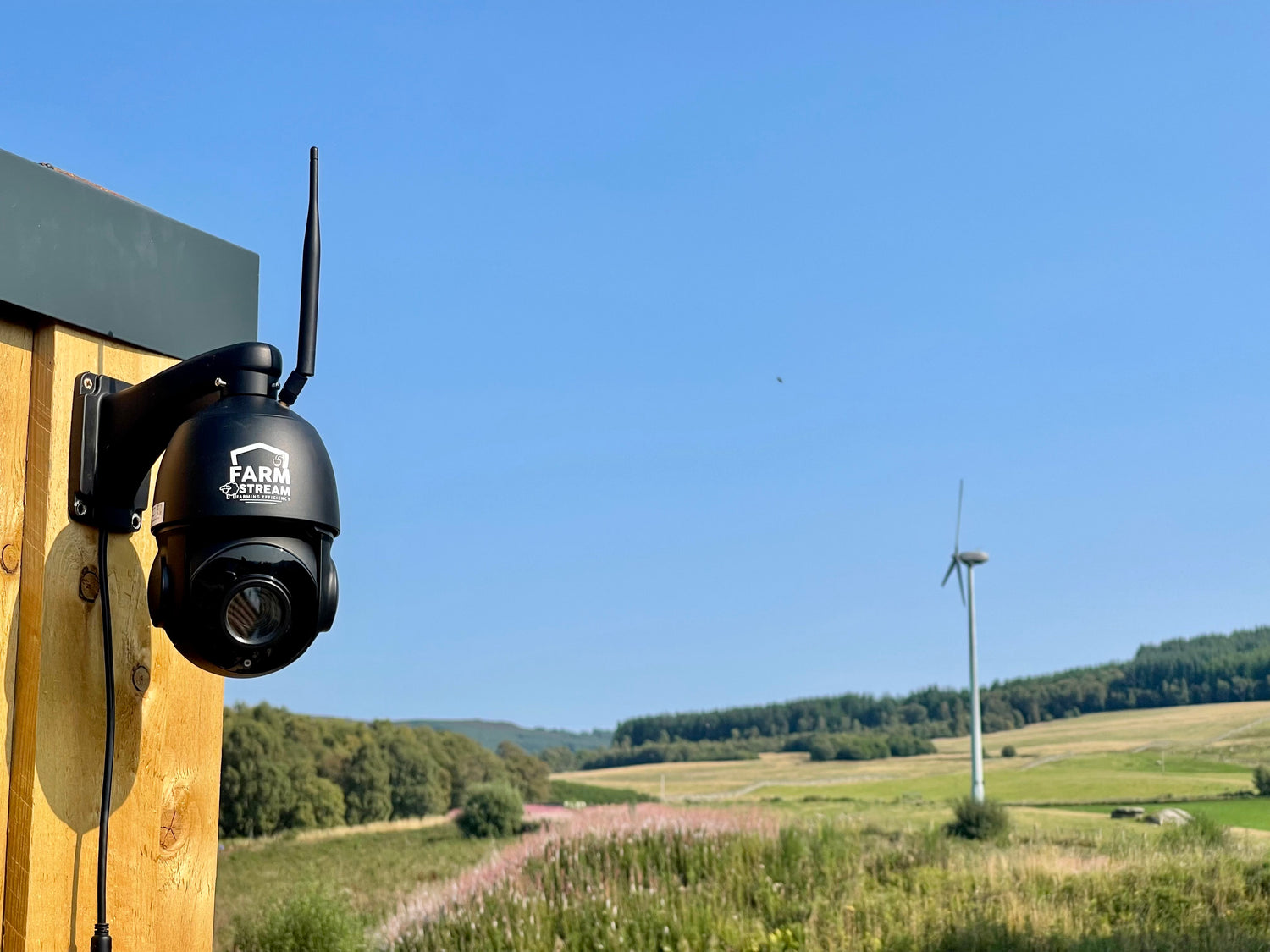 How Do 4G Cameras Work?
Don't have WiFi and can't run a cable? Our 4G cameras take a SIM card, similar to a SIM card in your mobile phone. We include a free multi-network SIM card (Vodafone, EE & O2) with every 4G camera. If you prefer an alternative network provider, our 4G cameras are fully unlocked and will work with a SIM of your choosing.
Learn More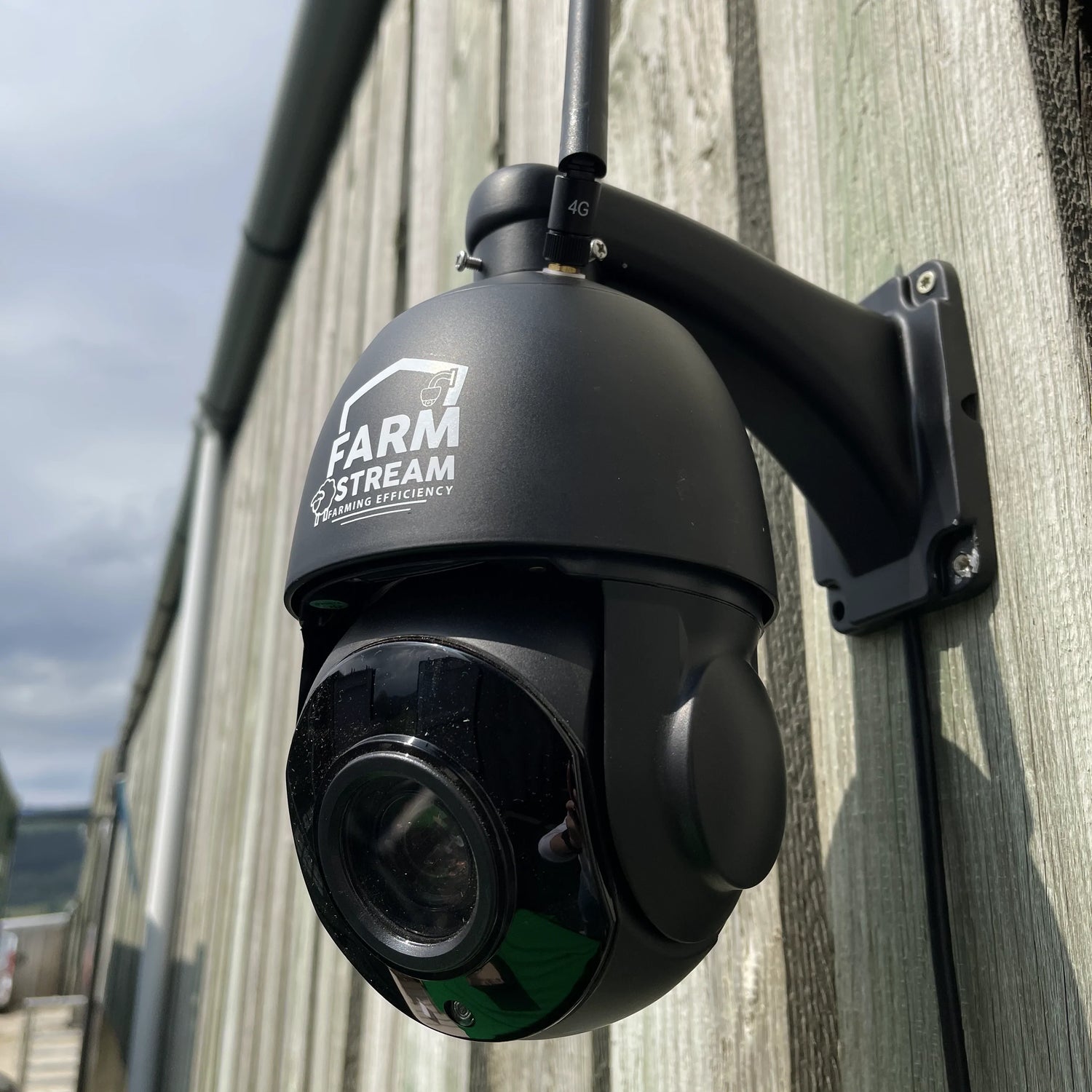 Why the Farmstream 360?
The 360 Degree Camera can be moved around and zoomed in and out for excellent coverage wherever you need it. A lightweight metal shell for a high quality and durable finish provides a robust solution for withstanding the most extreme environments.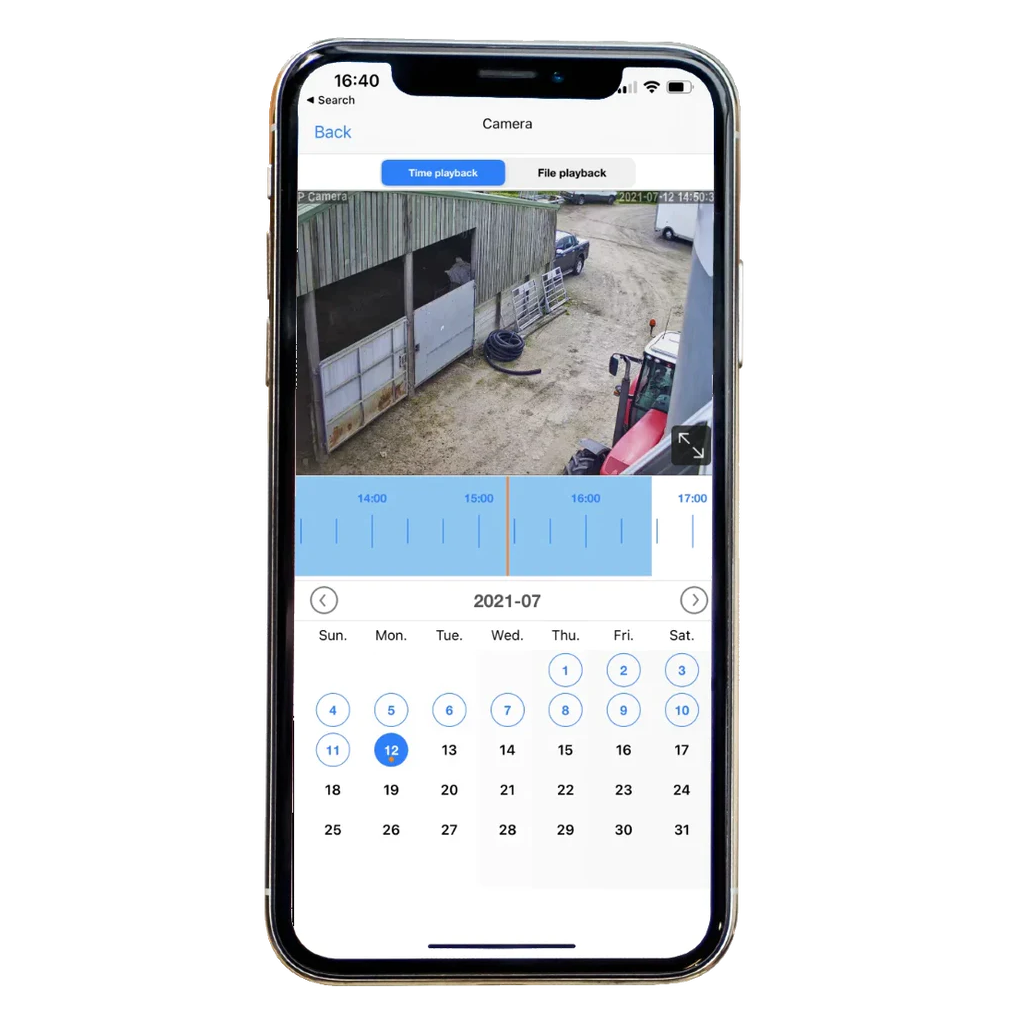 How Does Recording Work?
Simply insert a micro SD card into the camera to enable recording, and stream and download recorded footage directly to your mobile.

· Record 24/7
· Set specific recording periods
· Automatically record if motion is detected
30X Optical Zoom
Zoom in to experience a close up view of your livestock or property anytime, anywhere
80M Night Vision
Rest easy knowing you have access to a clear view of your animals, machinery or property day and night
Key 360 Camera Features
The features which set Farmstream 360 Cameras apart 🐑
Pan & Tilt

Remotely pan through 355 degrees and tilt through 90 degrees

Auto-Track

Detects and follows human movement for better coverage

80m Night Vision

Infrared means your camera can see in the dark

30X Optical Zoom

View objects over 200m away in clear HD
Standard Farmstream Features
4G Options

A 4G model is available for locations without WiFi

IP66 Rated

Suitable for the most extreme outdoor environments

Smart Alerts

Receive app push alerts for on-the-go security 

Two-Way Audio

Built-in mic and speaker lets you interact through the camera

Record Footage

Insert an SD card to record footage from your camera

Multiple Users

Family and friends can help keep watch

Plug & Play

Self-install systems mean setup is simple and affordable

Full HD

Our 5MP camera provides sharp, clear footage day and night

View from any device

Available on all mobile devices

Wide Viewing Angle

Cover a wide area with a 100 degree viewing angle

Human Detection

Advanced technology identifies human movement
Frequently Asked Question
Which camera do I need?

We have two types of Farmstream Camera which are the Farmstream Static Camera and the Farmstream 360 Degree Camera. 

The Static Camera is better suited for monitoring smaller areas. For security, this could be doorways, or small driveways and for livestock, this could be smaller calving pens or equine stalls. It is a fixed position camera with a viewing angle of 76 degrees and a night vision range of 30m. 

The 360 Degree Camera is best suited for covering large areas. For security, this could be driveways, yards or rural sites and for livestock, this could be calving or lambing sheds, or fields and paddocks. The 360 Camera has a viewing angle of 100 degrees, can pan through 355 degrees, tilt through 90 degrees, has a 30X optical zoom for zooming into objects up to 200m away, and has a night vision range of 80m.  

Both cameras are available in a Wi-Fi or 4G model and each camera requires an external power supply. A 3-pin plug is included with every camera, and this is suitable for plugging into a standard 13A socket. Farmstream cameras can also be powered via a 12V Leisure Battery or Solar Kit Setup.
Do I need a Wi-Fi or 4G Camera?

If  you have good WiFi in the spot you wish to place your camera, then we would recommend a WiFi Camera. If you do not have good WiFi in the spot you wish to place your camera, but have good 4G coverage, then we would recommend a 4G Camera. 

A simple way to test if your W-Fi is strong enough to reliably support a Famrstream Camera is to stand in the spot you wish to place your camera, ensure your phone is connected to your home Wi-Fi and run a speed test at https://fast.com/ . Once complete, press 'Show more info' and check the upload speed test result. We recommend a minimum upload speed of 6 Mbps to reliably support a Wi-Fi camera.
How much does data cost with a 4G camera?

The cost of data depends upon data usage, and which network provider the SIM card placed in the camera is with, as prices vary depending on network provider.

Data is primarily used when footage from the camera is viewed via the CamHipro app. This includes watching live and recorded footage via the app. We send each 4G camera with a giffgaff SIM card (O2 network) and giffgaff offer monthly data packages called goodybags. 3GB of data will be used for ~30 minutes of viewing footage time per day, each day of a 30 day month and the cost of a 3GB goodybag with giffgaff is £8 per month. 

If there is a different network provider that you would prefer to go with, then we recommend that you research the cost of their SIM only data packages, prior to purchase. Different network providers (such as EE) can offer 'family' data plans, meaning data can be easily shared across several SIM cards. This is cost effective when running multiple 4G cameras.
How can I power a Farmstream Camera?

A Farmstream Camera requires an external power supply, takes a 12V, 2A supply and can be powered via mains (13A standard socket), 12V Leisure Battery or via a Solar Kit system.

The cameras come as standard with a 3-pin plug with inbuilt transformer unit for powering the camera via mains and this includes ~1m of cable. If powered via a 12V Leisure Battery, 12V Battery connection leads are available to purchase via the Farmstream website, as are 5m or 10m power extension cables.
How do I set up my camera?
How can I view footage from the camera?

Farmstream cameras work with a free app, called CamHipro, and this is designed for use on a smart phone or tablet/iPad device. The CamHipro app is available to download on iPhones and Android devices. 

 Farmstream cameras can also be linked to a PC. We do recommend initially setting the cameras up via a smartphone using the CamHipro app, and once setup, they can be linked to a Windows PC or MAC. Software and instructions for this are available towards the bottom of the setup page on the Farmstream website: https://www.farmstream.co.uk/setup
Can the cameras record footage?

Farmstream Cameras can record footage if a micro SD Card is inserted into the camera. A micro SD card is not included with the camera, but these are available to purchase on the Farmstream website. The cameras can then be set to record all the time, only when motion is detected or only at certain times of the day/night. All recorded footage can be accessed via your mobile phone using the CamHipro app, so the SD card does not need to be removed from the camera.
A 64GB micro SD card will hold around 1 week's worth of footage, a 128GB micro SD card will hold approximately 2 weeks' worth of footage, and the maximum size 256GB micro SD card will hold around 4 weeks worth of footage.  

Once full, the SD card will automatically overwrite the oldest footage first. 

Useful Links
Can more than one phone/device link to one camera?

Yes, there is no limit to the number of devices that can connect to and view footage from a Farmstream camera. Each camera comes with a unique identification number and is password protected. As long as each device has access to the UID and password then they will be able to view footage from the camera.  

The maximum number of cameras that can link to one device is 64 cameras.
How long does delivery take?

Cameras & Accessories: Tracked delivery, 1 - 2 working days.

Farmstream Solar Kit and Farmstream Solar Kit Bundle: Tracked delivery, 3 - 5 working days.

115W Solar Kit: Tracked delivery, 5 - 7 working days.
Why should I go with a Farmstream Camera?

Farmstream are specialists in livestock monitoring and rural security equipment, with camera setups suitable for just about anywhere! Choose from Wi-Fi, 4G, mains power or off-grid depending on what you require, and our friendly sales team are on hand to advise if you have any questions. 

Still not sure? Check out how other customers have got on with their Farmstream Cameras
Don't Just Take Our Word For It
What do our customers have to say?
Human Auto-Track
Our 360 Degree Camera can now automatically identify human movement and track a moving target. Perfect if you're using your camera for security, cover a larger area with just one camera!
Perfect For Security Or Livestock Monitoring
The Farmstream 360 Camera is available in a WiFi or 4G model and is compatible with mains power or 12V to help meet your off-grid needs. 
30-Day Money Back Guarantee
Our 30-day money back guarantee offers you time to make sure our cameras are right for you. Get in touch with our friendly team at info@farmstream.co.uk for more details.